Home / Education / James Williams Jazz Series Education Program
James Williams Jazz Series Education Program
Each season the "We Always Swing"® Jazz Series compliments its concert schedule by offering a series of educationally based activities. Over time, our educational programming has grown substantially — and with our continued partnership with the entire Columbia Public School District and MU's School of Music and its Jazz Studies Dept., it remains a prime consideration.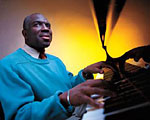 After his passing, now a decade ago, the Jazz Series chose to name its education component after James Williams (3/8/51–7/20/04), the wonderful pianist. As part of the 20th Anniversary Celebration, we will honor Williams — and other fallen musicians — with a concert on April 26, 2015. Williams was not only a beloved and well-respected pianist and performer, but he was also someone who felt an obligation to encourage up-and-coming artists and assist them in any way he could. Williams' first Columbia appearance dates to September 1985 — a full 10 years before the Jazz Series got underway. Subsequently, the Memphis native made several Jazz Series appearances leading a variety of bands. His final Jazz Series appearance took place on June 14, 2003, a co-led duo "House Concert" with Bobby Watson that, ultimately, resulted in the Jazz Series-produced CD: Soulful Serendipity (WASJS-1001) — with ALL proceeds going, appropriately enough, toward our jazz programs.
Williams worked often in the classroom and within formal settings — where he would eventually move from Berklee College of Music where he began teaching at age 22 to William Paterson College, where he would serve as Director of Jazz Studies from 1999 until his passing. He would also teach on the bandstand. Having been a member of Art Blakey & the Jazz Messengers (1977–1981), the pianist knew all too well about "on-the-job" training; as such, he carried on that tradition when he became a bandleader.
During the 2014/2015 season — as part of the season-long 20th Anniversary Celebration, the Jazz Series will again offer a series of educational activities including "Annual Children's Concerts" that involve the entire elementary school population throughout the Columbia Public School District; "Jazz in the School" Initiative, which is a program involving individual schools and their respective Partners in Education such as Missouri Employers Mutual and Gentry Middle School and US Bank and its partner, Alpha Hart Lewis Elementary School. The Jazz Series, as an affiliated program of MU's College of Arts & Science, also works closely with the School of Music and its Jazz Studies Program under the direction of Arthur White. Our "Artists-in-Residence" program integrates band critiques, master classes and workshops with aspiring jazz students. Additional Jazz Series educational activities extend to all citizenry such as our Community Forums, which are open to the public free of charge or at a nominal cost. Most recently, the Jazz Series opened The Earle LeVon "Vonskis" Freeman Memorial Library — a 7,000 CD/LP resource that we are making available to all, Monday–Friday, 10 a.m.–5:30 p.m. Learn more about the Freeman Library and how you can become a member.
Jazz Series Education Sponsors